On your tour to Portugal, you will have several tourist spots to enjoy and get into the history and cultural knowledge. It will let you get familiarize with the people and civilization easily and find out more about their historical transformation. On the other hand, your visit lets you explore what to eat in Portugal. On your tour, having good food is the ultimate craving you would like to satisfy. So, why not try some quality and authentic Portuguese food that will give your taste buds a burst of flavors. Here are some recommendations, from the Oporto Francesinha to the Famous Bacalhau, for the best cuisines you can have on your visit to Portugal.
Chicken Piri Piri
Piri Piri Chicken is something we can find at several places in the world. Even in your home town at many of the restaurants, you may have tried this dish for sure. But, in prodigal, you will get the chance to have it in its original attire. The finely cooked chicken with some amazing spices and sauces makes it even better for you to enjoy in its legacy.
Francesinha Sandwich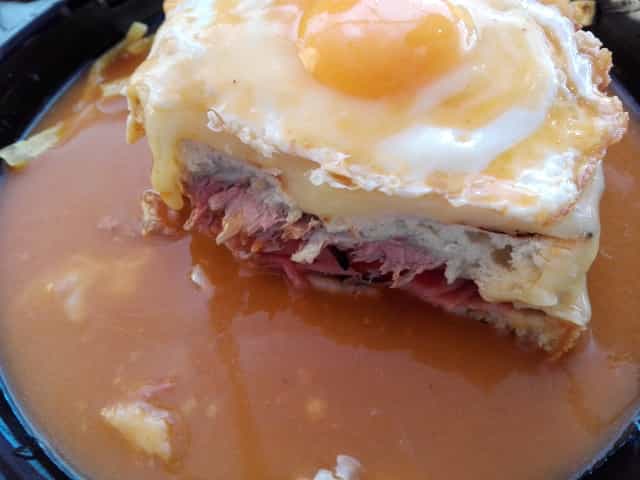 If you are found of sandwiches and like to have the verity of them, then you should try out the Francesinha Sandwich. The famous sandwich of Portugal is one of the ancient dishes found here with some signature ingredients and recipe. It is mostly filled with sausages, ham and various roasted meats. Being covered in beer and tomato sauce makes it even more appetizing. The Francesinha Sandwich was first invented in the 1960s, and it is famous for being one of the main cuisines of many of the restaurants in Porto and many other cities as well. Finding a fine dining experience of Francesinha Sandwich is not a difficult thing for you at all.
Bifana
If you are looking for the street food snack that is easy to go with, then Binfana is one of the options you have. It is easily found on the streets at several food stalls and food trucks in the streets of Lisbon. It's one of the simple but amazing foods you can have in Portugal. The fried meat slice marinated in white wine and garlic in a bun makes it simple but delicious. The pro tip is to have it with a cold beer, and you will love the combination.
A whole crab!
In Portugal, you will find the best way to eat crab. Here you will get the whole crab with all of its innards and fats mixed with a sauce and served in its shell. It will be an amazing experience for you to have overall and you can enjoy the dip with the plain bread sitting in a fine dining restaurant.
Pasteis de Nata
The food trip in Portugal is not just about the main cuisines but some snacks too. You can have the famous Pasties de Nata that has an exceptional taste of rich egg custard inside a puff pastry that makes it exceptional. The recipe is still a secret for the outside world, but people love it in there to have it. You will get a chance to enjoy the ultimate pastry from the original bakers in the house.
Saradines
In your summer visit to Portugal, there are chances to enjoy the authentic grilled sardines. In June, it seems to be an open food festival for Saradines in Portugal. You can find the best-grilled fish here at many of the restaurants and street vendors easily.
Bacalhau
A country rich with seafood then why not its national food is a seafood dish. Bacalhau is the dried salted codfish that is the national cuisine of Portugal. There is hundreds of way to make the dish, but it remains tempting in any way.